---
Posted:
14 Jun 2016 06:42 AM PDT
London's first Muslim mayor has banned advertisements on the public transportation system that feature thin and attractive women.
Sadiq Khan stated Monday that any image with the ability to cause body positivity issues would be removed from areas throughout the city.
"No one's confidence or body image should be undermined by ads on our transport system," Khan said.
According to the
Evening Standard
, the new policy "is only expected to affect a handful of the 12,000 adverts a year which run across the network, including at bus shelters and on-street sites."
The Standard made specific mention of the infamous "
Beach Body
" ad which outraged feminists late last year.
"An advertisement that encouraged women to get in shape for the summer has been banned by the UK's Advertising Standards Authority after feminists complained the commercial was an example of 'fat shaming' and threatened to bomb the headquarters of the company behind it," Infowars' Paul Joseph Watson wrote at the time.
Khan, who has two daughters of his own, defended the policy by stating that he was extremely concerned by advertising that can "demean people, particularly women, and make them ashamed of their bodies."
"Nobody should feel pressurised, while they travel on the Tube or bus, into unrealistic expectations surrounding their bodies and I want to send a clear message to the advertising industry about this."
The mayor's decision received almost entirely negative responses across social media and a wave of trolled images of how future ads should look like.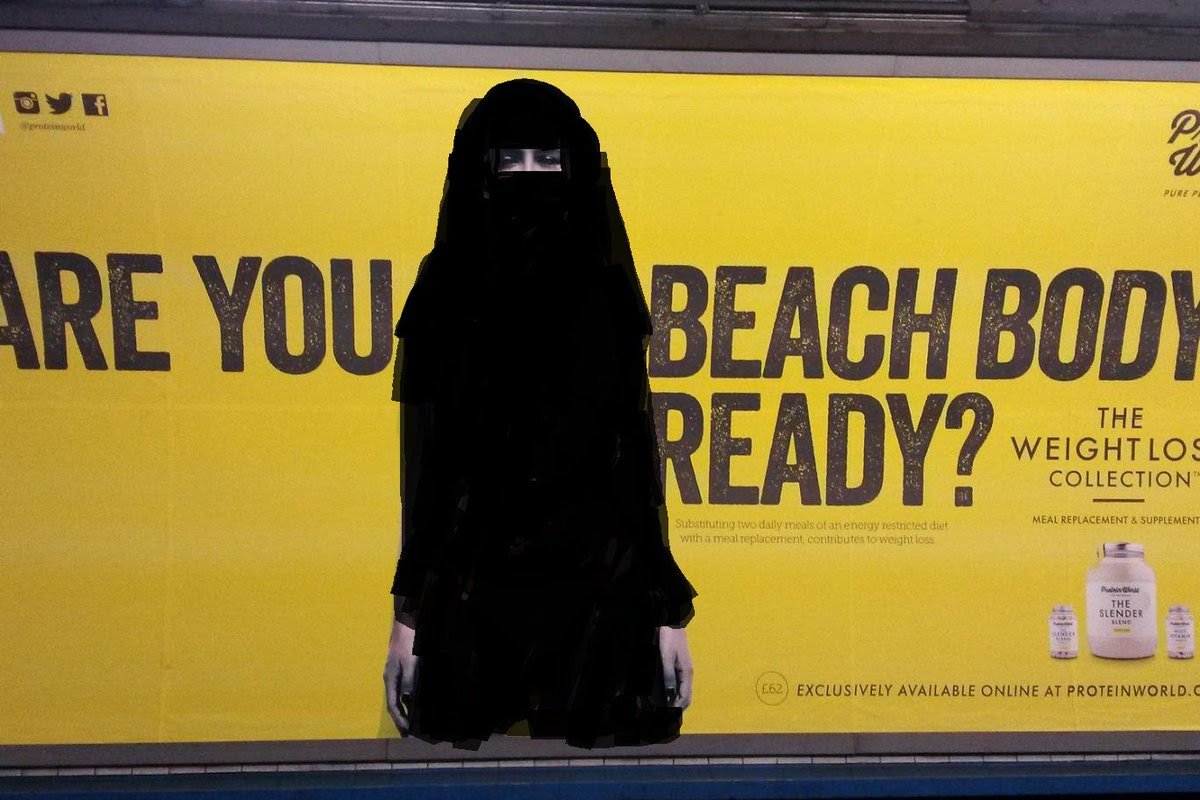 Source
Posted:
14 Jun 2016 05:21 AM PDT
There were a few survivors who told the press about someone holding the door shut but most of the American mainstream media vastly ignored this subject as if it didn't exist. Well now the guy who blocked the exit door came out in the open and confessed the whole thing. Turns out it was one of the gay clubgoers who managed to escape among the first. The guy's name is
Luis Burbano who is a Mexican actor
who confessed that despite hearing bangings in the door and probably even screams like "open the dooooooooor, heeeeeeelp!" he kept blocking it!
Logically, this makes him an accomplice and a tool to the slaughtering and he should be imprisoned for the rest of his life for this, but do logic still exist in America? Or is it just a country of political correctness and social justice warriors b***hing like little kids every day? No matter if he did it on purpose as an accomplice to Omar Mateen or wrongfully believed that this was the right thing to do at the moment, he is still guilty for the the deaths of dozens of fellow gays. If he was a straight white guy he would have been all locked up by now, seconds after the first interview, as a vicious hateful homophone.
This patron at the Pulse nightclub told reporters he fled the building then blocked the only free exit from the club preventing others from escaping.
Patron: We just started pushing and pushing and then when we got that 10 second break we went to this alleyway which led for only employees and we tried, me and this random guy, tried blocking the door. At that point like I said the bullets were getting louder and closer. So
we blocked this door and

we did hear banging
. I pray it wasn't anyone trying to escape because I would forever feel guilty.
He also confessed the same thing to Megyn Kelly on FOX News, saying: "There was banging, there was pushing of the door" but he just did what he thought was right, kept blocking the door. Go to minute 4:50 and see for yourself!
The trapped crowd was banging on the door and he wouldn't let them out! Unbelievable!
Posted:
14 Jun 2016 04:18 AM PDT
A father and stepmother in Kansas City, Kansas, reportedly fed their 7-year-old son to pigs after killing him and chopping up his body and were later discovered to be living in horrific conditions.
Michael A. Jones, 44, was originally arrested after firing a gun at his wife, 29-year-old Heather Jones. Following his arrest it was reported Michael's son, Adrian, had previously gone missing and was buried on the couple's property.
Human remains were subsequently found on the property, and police soon discovered the remains had been fed to pigs.
Police found dead mice, rats, rat poison, syringes and pornographic material in the home, reports New York Daily News. The couple lived in the home with their son and six girls.
Property owner Jennifer Hoevers, who rented the house to the Jones family, said she was shocked and disgusted when she went inside.
"It took my breath away," Hoevers told WDAF. "Fast food wrappers everywhere. There's milk, rotting food everywhere."
Hoevers noted that there was black mold growing throughout the house and bullet holes in the wall. An entire bathroom had been torn apart and the swimming pool had been ruined. She launched a fundraiser through GoFundMe to fix the house.
Hoevers initially rented the home to the Joneses because they appeared to be polite and were desperate for a home for their children. They reportedly showed interest in one day buying the property.
The $500,000 house Hoevers and her deployed husband put their life savings into was ultimately destroyed by the Jones family, reports WDAF.
Jones was arrested on $10 million bail, while his wife was held on $5 million bail. Both were charged with child abuse and first-degree murder, among other charges.
Source
Posted:
14 Jun 2016 04:05 AM PDT
Ohhh God, not again! Another adherent to the "Religion of Peace", slaughtered a Paris policeman and his wife on Monday night.
A policeman and his wife were killed in a frenzied knife attack at their home in a Paris suburb on Monday night by a man who reportedly shouted "Allahu Akhbar".
The man had been sentenced in 2013 for taking part in a jihadist organization with links to Pakistan, press agency AFP
reported
on Tuesday.
They identified him as Larossi Abballa, 25, adding that he had been sentenced to a three-year term – six months of which were suspended – for "criminal association with the aim of preparing terrorist acts," in a trial with seven other defendants.
French police sources also said that Abballa was part of a recent investigation into a Syria jihadist network and had pledged allegiance to Islamic State of Iraq and the Levant (ISIL/ISIS/IS/Daesh, different names, same BS Islam will take over the world mumbo jumbo).
Cuckold French President Francois Hollande said that the stabbing attack was "incontestably a terrorist act" and that France was facing a terror threat "of a very large scale." Socialist cuck president Francois Hollande is far behind in all French recent polls, polling on 3rd place as people are getting tired of his political correctness, being beaten by Jewish so-called "conservative" former president Sarkozy who is in second place, and by authentic female patriot Marine Le Pen who is on first place by almost 10%.
"France is not the only country concerned (by the terrorist threat), as we have seen, again, in the United States, in Orlando," cuck Hollande said.
ISIS claimed responsibility for the killings in a statement released by the Amaq news agency, the group's propaganda outlet, which it also used to announce that the Orlando massacre was perpetrated by an ISIS fighter.
"Source to Amaq agency: Islamic State fighter kills deputy chief of the police station in the city of Les Mureaux and his wife," Amaq's statement said.
Larossi Abballa stabbed the 42-year-old officer, who held the rank of "commandant" (commander), nine times in the stomach at his front door. After stabbing the policeman, who was in plain clothes when he was killed, the attacker forced his way into the home.
Officers found the woman's body with knife wounds to her neck after they stormed the house, and the attacker was killed during the assault, interior ministry spokesman Pierre-Henry Brandet said. She worked as a secretary at a local police station.
The couple's 3-year-old son was rescued after police stormed the home in the north-western Paris suburb of Magnanville and shot dead the attacker.
The agent of peace Larossi Abballa probably kidnapped the kid so he can grow him up as his own as a proud terrorist just like him. This was a standard practice among Muslim Ottoman Turks during the Dark Ages. They kidnapped white Christian kids from Balkan countries such as Greece, Bulgaria, Romania, Serbia and others and grew them up as their own, forced them to convert to Islam and enrolled them into their own Ottoman armies so they can later fight against their countries of origin and potentially even against their own parents.
Even the famous Vlad the Impaler, or better known as Count DRACULA the Vampire, was
kidnapped as a kid along with his brother and grew up in Turkey as a Muslim convert
who years later broke free and went to war against the Ottomans.
Trump is right, BAN ISLAM, BAN MUSLIMS from the Western World, DEPORT THEM ALL NOW! Enough is enough already! How many more of these terrorist acts do we have to go through until we do something?
Posted:
14 Jun 2016 02:21 AM PDT
A man who survived the terror attack early Sunday morning at a gay nightclub, said he believed there were 2 gunmen and not just one.
Now we know Omar Mateen had radical Islamic views, noo thanks to his father those views only grew stronger.
The friend of a bartender who was shot three times at the Pulse nightclub in Orlando, Florida relays what his friend told him happened Sunday, step by step.
"People need to start carrying concealed, because this is only going to get worse."
Source